There are many different types of terrain and surfaces you'll encounter when riding your bike. Here's a few tips on riding technique and how to handle different terrain.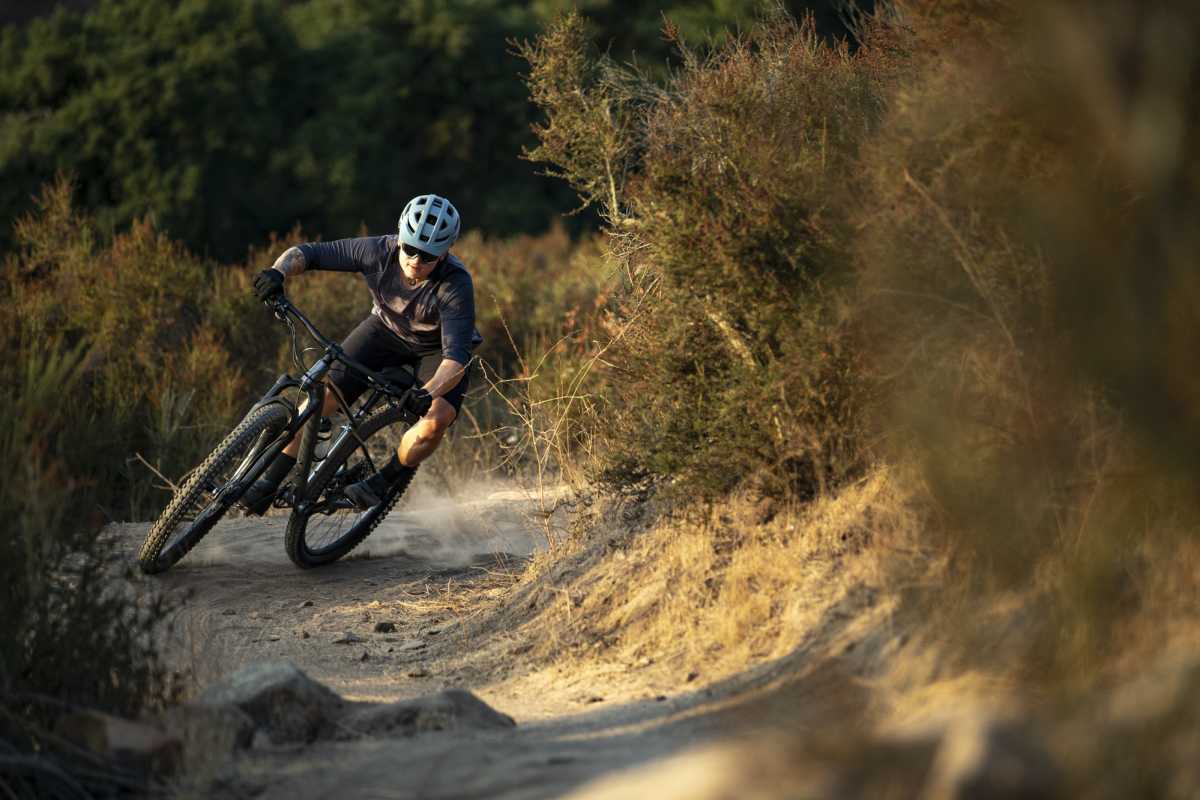 Tip #1: Dry Trails
Dry and sandy trails can cause you to slow or slide out suddenly. Staying relaxed in the saddle helps you to react and adjust your balance. Slow down before going into corners to avoid loosing traction. When the trails are moist but not muddy, don't be afraid to lean a bit harder in the turns. If hard-packed dirt turns bumpy and uneven you can loosen your grip on the handlebars to alleviate road vibrations, as well as support your body weight primarily with your legs rather than your backside.
Tip #2: Wet and Muddy Trails
Avoid riding on wet and muddy trails to avoid damaging the trail. If riding in mud is unavoidable, use round the consistent pedal strokes to avoid rear wheel spins. Maintain a steady, firm cadence until your tread finds traction. Some coaches describe mimicking the feeling of "wiping your feet on a doormat" at the 6 o'clock pedal position to help keep a smooth, consistent pedal stroke.
Descending in mud can be very dangerous when in doubt, dismount and walk. If you approach a puddle along the trail do not widen the trail by trying to skirt around it. If the footing looks firm, slowly roll right down the middle.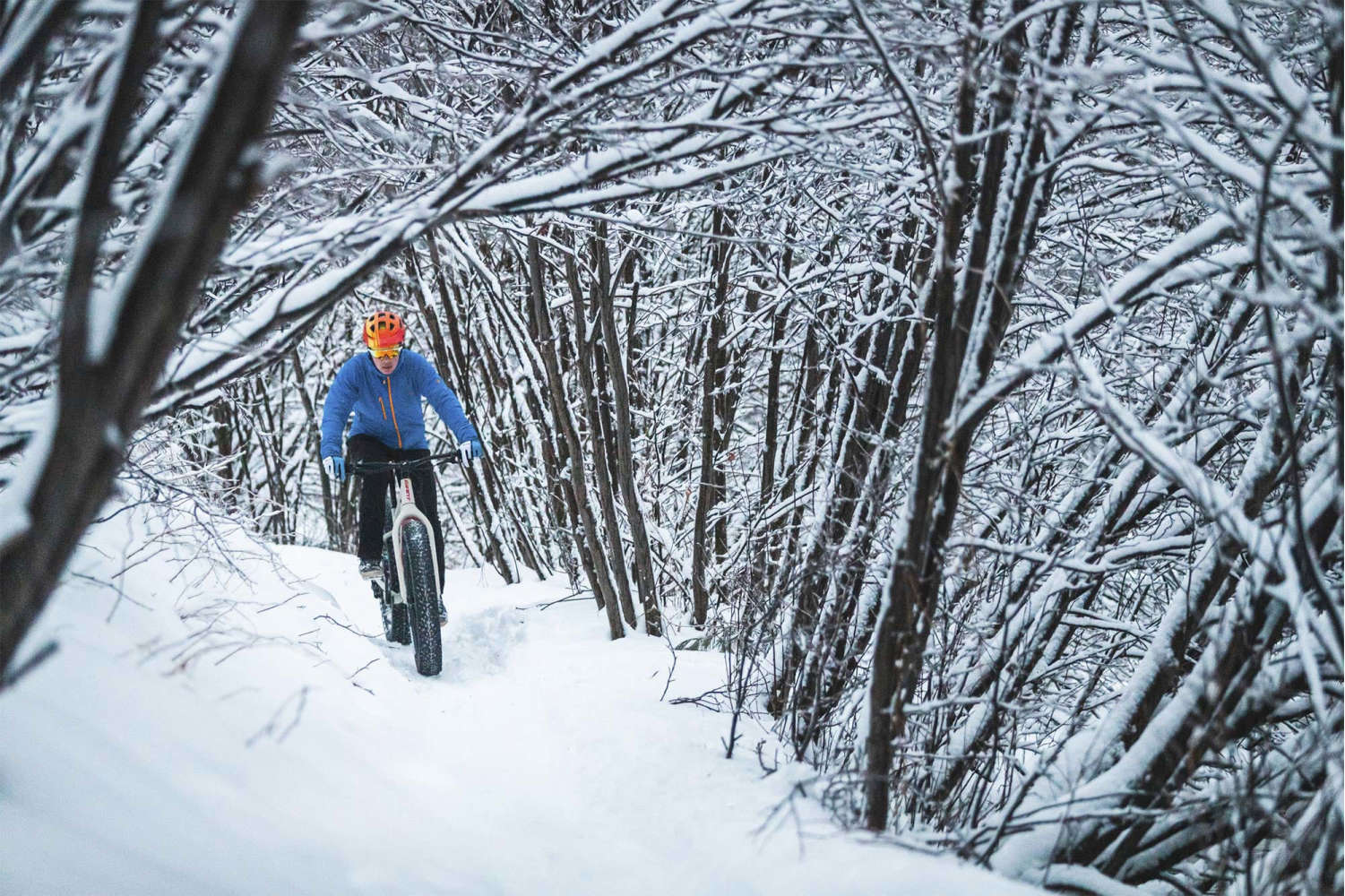 Tip #3: Snow and Ice 
When encountering ice, relax and roll over the middle without pedaling, braking or leaning. If the ice covers a large area, you may want to walk it or risk a nice knock on the noggin.
In deeper snow, use mud techniques, keeping consistent and steady strokes until you find traction.
Tip #4: Loose Gravel
In loose gravel, power pedal through soft spots to avoid stalling. Be careful of transitioning onto gravel at high speeds, brake early and arrive softly. If you reach a chunky, rocky section that looks like it could potentially puncture your tires slow down as you enter but keep enough momentum to contiue through the feature/terrain. Remember always keep your eyes ahead of you, and choose the smoothest line.
Each trail surface teaches you something new about riding and balance. Don't be afraid to venture out, but be smart about it. Remember, brake carefully before you roll over tricky bits, and steady as she goes in the mud otherwise you'll be a little dirty.
Tires
The right bike tires make all the difference whether you're riding road, mountain, or commuting. Tires range in size from the most aerodynamic road racing tires to aggressively treaded mountain bike tires. Don't forget an extra inner tube so you're covered for those mid-ride flats. No matter your discipline you can find versatile, puncture-resistant, all-weather options to make your next season epic!
Conclusion
Here's some final tips and techniques that will help your riding improve in any terrain.
Stay Loose

Let your bike do it's job. Strong arms, bent knees, and stay relaxed.

Maintain Momentum

Speed is your friend, the right amount will get you through a tough spot.

Shift Your Weight

When climbing lean forward, when descending move your weight back.

Brake Smoothly

Too much front break can send you flying over the handlebars!

Use all of your gears

Climb easier, sprint faster, and become a better rider by using your full gear range.

Look where you want to go

Keep your eyes ahead of you, and look where you want your tire to follow.
Thanks for reading our article on 4 Tips for Riding on Different Surfaces and Terrains. Hopefully your next ride is off the charts! If you have any questions or want gear recommendations drop us a line and we'll get you rolling!
Financing
Bicycle Warehouse has a number of financing options to help you get your dream bike and all the gear you need to have more fitness, freedom and fun.
If you're local to Southern California we invite you to visit one of our Bicycle Warehouse retail stores to experience the best selection and service around.
We have a fleet of awesome mountain, road, and hybrid bikes standing by,come by and test ride the bike of your dreams today! 
Find a Bicycle Warehouse Store Near You!
---
Got questions? We'd love to chat!
Reach us Tuesday-Saturday 11-6 PST
Email: info@bicyclewarehouse.com
Live Chat: @ www.bicyclewarehouse.com