If you've ever been to a Bicycle Warehouse, you've seen the plethora of choices from bikes and parts, to accessories and clothing! From the type of tires to the style of handlebars, It simply isn't as easy as it sounds. Because everyone wants a cool bike. And, virtually all bikes are cool based on their design intent. Thus leaving you confused and, most probably, making the wrong choice.
So how do you choose the best bike for you? And what are those key factors to keep in mind in the decision-making process?
With so many options of bikes available, it can be tough to figure out what's best for you. It helps to  consider some key factors like: 
Who you cycle with

The kind of bike they ride

The features you like in bikes

The features you dislike in bikes

Where you would be riding your new bike

And, your budget for the new bike
If you cycle with a group of friends, check out what they ride and buy a bike similar to theirs. You wouldn't want to be seen as odd amidst your cycling partners. What cool features do you love in bikes? Perhaps you enjoyed road bikes as a kid and would love to have something similar, if not exact. And, more importantly, where you would be riding your bike. If you buy a mountain bike to ride on roads or a road bike to ride on mountains, it might not work as expected. The type of bike you choose should also be a function of where or how it would be used. 
The Common Types of Bikes You Can Consider
Mountain Bikes
Mountain bikes are designed to navigate rough off-road trails. Many of them have a shock absorber or suspension. The suspension can only be at the front (these are the hardtails) or at both front and rear( these are full suspensions). When they do not have any suspension, they are referred to as ridge. Their handlebars may be flat or upright, while their gear range is very low. This helps them pedal up steep trails much easier. Mountain bikes can also be used for touring or commuting if adjusted to suit that purpose.
Hybrid bikes 
If you need a bike for short-distance commuting, to run errands within the town, or just to navigate the neighborhood, you can count on hybrid bikes. Originally, they were designed to serve the purpose of a mountain bike and a road bike. They are quite efficient on paved roads and unpaved roads, however, they aren't as effective as the "dons" themselves - mountain and road bikes. They feature a large padded seat, medium-width tires, and a semi-smooth tread that offers it fairly smooth and comfortable navigation on paved roads but the insufficient grip on unpaved roads.
Road Bikes
As the name suggests, they are bikes used for on-road racing. Their tires are skinny and smooth, you can tell they were designed for smooth pavements. They also have drop handlebars and are relatively lighter than others. If you need a bike to commute and tour, count this out. This is because they wouldn't be able to handle heavy objects
Cyclocross bikes
Also called cross bikes or CX bikes, cyclocross bikes are a type of road bike that is designed for mixed surfaces (gravel, grass, unpaved trails, and others). Because they are made for more off-road traction, their tires are a little wider than regular road bikes and they feature a unique style of brakes. One that keeps their frame free of mud build-up.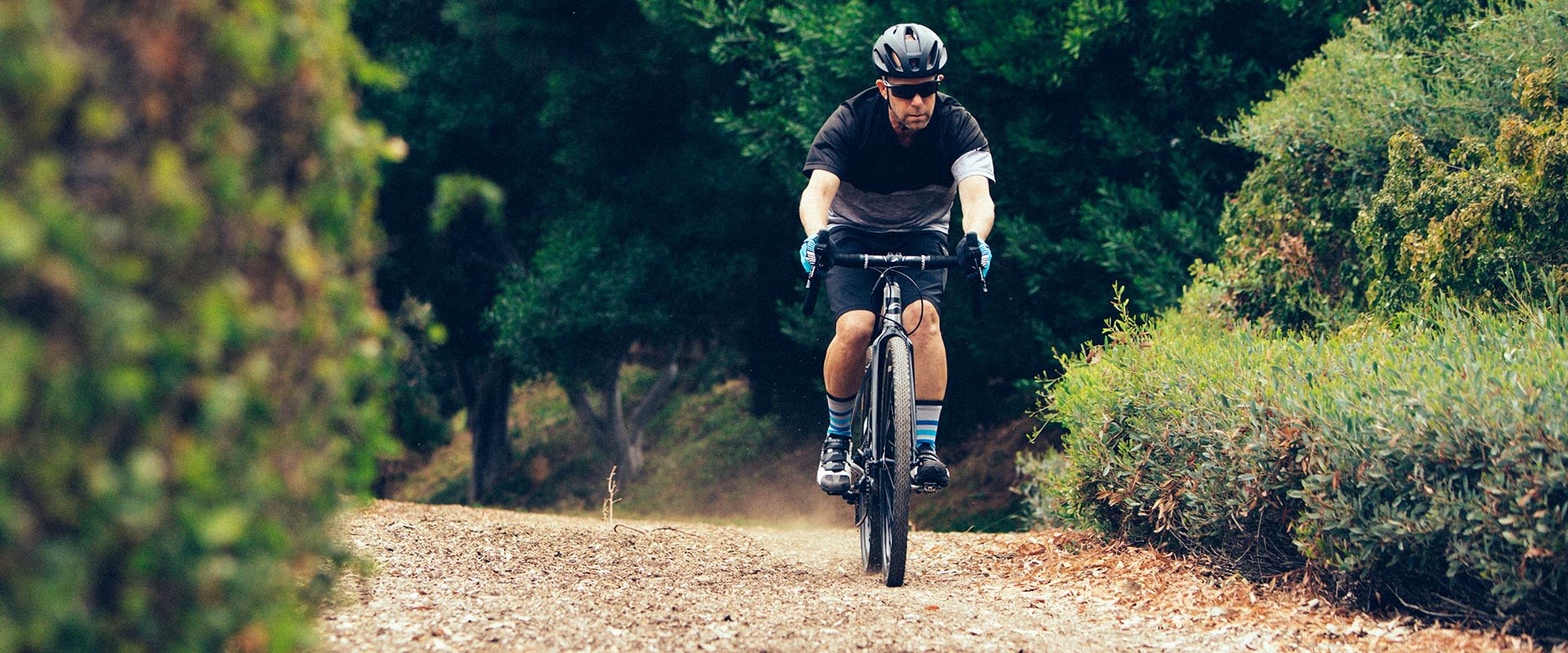 Touring bikes
If you're looking for a bike that has mounting bolts and can very comfortably carry your loads, you can't go wrong with touring bikes. As a long-distance rider, you need ease and comfort throughout your journey so that you don't get tired easily. Touring bikes give you all these. Their gear range is lower as compared to regular road bikes; the secret behind its ability to shoulder heavy loads.
Adventure Road Bikes
These are all-road bikes(or any road-bikes). Being a new category of bikes, and a subcategory of road bikes, adventure bikes take pride in their ability to travel even longer journeys. Like cyclocross bikes, they can use wider tires if required and undoubtedly are the most versatile in the list of road bikes.
Triathlon/Time Trial Bikes
When it comes to maximizing aerodynamic properties, a triathlon bike does the job. You move through the air with minimum resistance, thanks to its specially designed handlebars. They enable you to crouch forward while riding thereby creating a streamlined shape.
They can also mount cargo racks and fenders,  for commuter bikes.
Dual Sport Bikes
This is a subcategory of hybrid bikes geared towards the lovers of multi-surface versatility with extra aggressiveness in style and riding position. Their handlebars may be flat or upright, although not as much as regular hybrid bikes. Their seats are also smaller and more performance-oriented. So if you're interested in a good bike for touring on unpaved roads and communing, dual-sport bikes are a good option.

Cruiser Bikes
Cruiser bikes are all about comfort. From its seat size to its handlebars, you could immediately sense that from its design. Their balloon tires are wide and they have upright handlebars that are even sometimes swept back. Their brake system is similar to the old-fashioned way where you need to pedal backward to slow down.  You can get them in single-speed or 3-speed designs
City Bikes
Also called commuter or urban bikes, the term city bike isn't used for any specific category of bike. However, when the term is used, there's a mental picture of what it is expected to look like. Such as having the features of both a cruiser bike (as in its upright riding position) and a hybrid bike ( as in its wheel size).  They are good for commuting and running errands within the neighborhood.
Flat-Foot Comfort Bikes
Also a type of cruiser bike, Flat-Foot Comfort Bikes feature an elongated frame that places the pedals a few inches ahead of the seat.   When you halt, you can very easily place your feet on the ground. The bike comes in various designs and colors that suit your style if you're a fan.
Conclusion
Whatever your choice of bike is, don't forget to ask yourself the earlier mentioned questions before handing out your cash. By doing that, you can be sure you have made the best decision for your bike needs and accurately invested your money.